Established in 2000, Cadenzahgold Golden Retrievers breed high quality, healthy, ANKC registered golden retrievers suited for all purposes.
We breed and own happy, well tempered dogs that are all the result of careful litter planning (breeding the best genetics we can find), outstanding pre and post natal care and the best ongoing health and welfare practices for our dogs. Each and every dog here is treated as a beloved family member who only deserves the best at all times!
Our dogs and puppies are raised in a variety of settings, both inside and outside our home with access to large open spaces and an extensive variety of experiences. We spend endless hours with each and every puppy we breed providing quality, mental and physical stimulation to ensure we are doing our best to establish sound foundations in all areas of health and training before they leave us to go to their new homes. We are trained in, and utilise 'Gold Standard' Puppy Culture protocols as well as providing constantly improving dog and puppy centric facilities that have been built specifically to maximise canine enrichment opportunities. Our attention to detail regarding diet, socialisation and general health is supported by strong, evidence based research and we are here to provide ongoing support and training to our extended Cadenzahgold family and their owners.

All our breeding dogs are hip and elbow scored, have clear heart certificates and hold current clear eye certificates. We also DNA test all parents for common genetic disorders such as Ichthyosis and PRA1 and PRA2 (Progressive Retinal Atrophy) and select suitable sires to ensure none of the puppies we breed are affected by these conditions. Our bitches are bred to quality stud dogs and show champions with a focus on health, temperament and Golden Retriever breed standards.
To view our current or planned litters of puppies for sale please visit our page:
When not raising beautiful puppies for wonderful new homes, our breeding dogs spend their time enjoying the country lifestyle of our Arabian horse stud, boating, camping and fishing.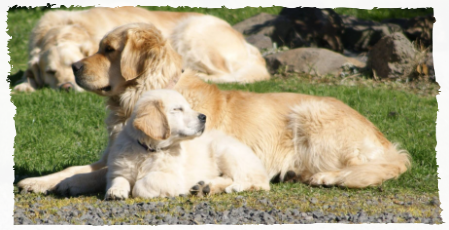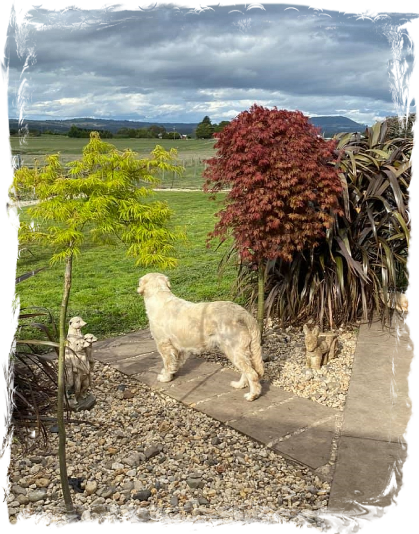 Candy Green and Damian Hardinge
Cambrian Hill (near Ballarat)
Victoria, Australia, 3352
Phone: 0488 420228 or 0438 424177